We are an Amazon Affiliate
Our site is supported by you, our readers! This page contains affiliate links, which means we may earn a small commission if you click through and make a purchase - you will not pay any extra. More details
here
.
Introduction 
The reputation of the First Alert 2096DF waterproof and fire safe is one worth exploring. It is a splendid and priceless addition to any home. The First Alert 2096DF model is easily one of the more well-known safe brands. 
The First Alert 2096DF has an excellent design and offers security against the common enemy of safety - fire, flood and theft.
First Alert 2096DF Waterproof Fire Safe Summary
| | |
| --- | --- |
| Overall Score: | 3.4/5 |
| Security Rating: | No UL Listing |
| Fire Rating: | 1 Hour U.L. Fire Rating (Fireproof for 1 hour at 1700°F/926°C) |
| Waterproof:  | Waterproof for 24 hours (up to 8 inches of water) |
| Locking Type: | Programmable electronic lock |
| Ext. Dimensions: | 18″H x 17.5″W x 19.63″D |
| Int. Dimensions: | 13.63″H x 13.25″W x 12.5″D |
| Capacity: | 1.31 Cubic Feet |
| Weight (lbs): | 93 |
The sturdy constructions of this safe make them resistant to the most extreme weather conditions, and of course, burglars.
The ingenuity of this mini-vault is due to its peculiar high-end features, and the myriad of benefits it offers.
This review invites you to have an in-depth look at the mechanical work of the First Alert 2096DF waterproof and fire resistant safe.
How secure is it? 
The First Alert 2096DF waterproof and fire resistant safe offers excellent value for its price.
The safe features six solid steel locking bolts on the door. Three of the bolts sit solidly on the opening edge while the other three rest on the closing edge. The sturdy locking bolts complement each other and keep the door firmly in position.
This safe has an exceptional locking mechanism that will stay steady if someone tries to break the door open with a prying tool.
The First Alert 2096DF waterproof and fire safe has its trademark secure Electronic Digital Locking system. On the front of the safe, a small digital keypad controls the electronic system and activates the anti-theft bolts on the door. You can also personalize your own 3 to 8-digit passcode.
Top tip: To bolster the already impressive security system, the anti-theft hinges are well concealed and are not visible, so you can rule out trying to use a crowbar to pry the door open. The digital keypad has an override option in cases of emergency.
Finally, the First Alert is a heavy safe; one big burglar may have a tough time trying to move this. However, it is not too heavy for two people to manage if you need to move it around your house.
What happens to my safe in case of fire? 
As added security to keep your valuable items safe, the first alert safe has an impressive fire protection mechanism. This UL verified safe will survive extreme temperatures of up to 1700°F/926°C for 1hour. So, if your safe is engulfed in fire, your documents, electronic disks, and hard-drives will not be damaged.
The 2096DF model is also reinforced with water resistance and is tightly sealed. The sturdy design of the safe keeps the interior airtight even if it is completely submerged in water.
Top tip: The unique material that makes up the 2096DF model also allows it to float in water. So in case, there's a flood, your documents won't get drenched.
Is it easy to use?
One of the benefits of this First Alert safe is that it is user-friendly. You don't have to be a technical guru to operate the 2096DF. You don't have to be threatened by the electronic keypad; the instructions are well explained in the user manual.
The First Alert 2096DF waterproof and fire safe also comes with an override key in case you can't remember your password or the battery dies.
To make your new appliance more enjoyable, the First Alert 2096DF has a door pouch that makes an excellent addition for individuals who use vital documents frequently. You don't have to scrabble through all your items to get your files, simply place your documents in the door pouch.
Perhaps the aspect of this safe that I least like are the two small wheels used for moving around.
While I appreciate this feature, as it is a heavy safe, it reduces the level of security of the safe. Burglars could use the wheels to their advantage just as well as the safe's rightful owner who's moving it from one room in their home to another.
Does it include a warranty?
The First Alert 2096DF waterproof and fire safe comes with a 5-year manufacturer's warranty that covers all fire damages.
Conclusion
The exquisite First Alert safe combines both a moderate level of security with a new modern look that has attracted the attention of many safe owners and made it a new people favorite. More importantly, it provides ample space to store your items.
However, its greatest appeal is the price. You can pick up this fire and water resistant safe for a little over $200.
Bottom line, this safe would suit you if you live in a relatively safe area with a low level of break-ins, want peace of mind knowing your valuables are at the very least protected against fire and water damage, and have a tight budget.
FAQ
Question: Does the First Alert 2096DF waterproof and fire safe include hardware to fix it to a floor?
Answer: The 2096DF model does not come with any holes. If it did, it wouldn't be waterproof.
Question: If the First Alert 2096DF waterproof and fire safe is plastic, how come it is so heavy?
Answer: The First Alert 2096DF is not entirely plastic. In fact, the door is the only part of the safe that is made of composite plastic. The weight of the safe further bolsters the security of this appliance. It makes it extremely difficult to carry away.
Question: How can I change the passcode of the First Alert 2096DF waterproof and fire safe?
Answer: Although the instructions on the user manual weren't clear enough, changing your passcode is pretty straightforward. First, make sure your protective cover is open and press the reset button. Ensure you press the reset button for at least 10 seconds. After, release the reset button, enter your new code, followed by #. Re-enter your new code followed by #. Once this is complete, the safe will flash a green light.
Question: Does the First Alert 2096DF waterproof and fire safe come with a backup key?
Answer: Yes, it does. The safe comes with two backup keys in case you forget your password or if the battery of the electronic keypad dies. The keyhole is not entirely visible, so a burglar may find it hard accessing the safe.
Alternatives to the SentrySafe SFW205CWB
If the First Alert waterproof and fire safe is not exactly what you're looking for, then here's a safe which might be more suitable…
Looking for something more secure?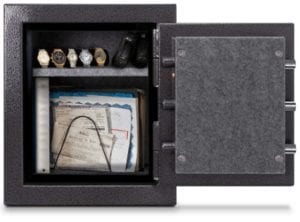 Check out my review of the Mesa Safe MBF1512C to learn more about it.
If none of these options are quite right for you, try my simple 7 step guide that guarantees to find the right safe for you and your home!
Alternatively, check out my top 10 home safes of 2021.