We are an Amazon Affiliate
Our site is supported by you, our readers! This page contains affiliate links, which means we may earn a small commission if you click through and make a purchase - you will not pay any extra. More details
here
.
For this post, I have put together a collection of the best gun safes currently available. 
However, it should be first noted, that in the United States most people keep firearms at home for safety purposes. In fact, according to Pew Research, half of American households keep a firearm.
Unfortunately, most people keep them in a cupboard or a drawer, which is not safe for households with children. No wonder accidental casualties caused by a firearm are the highest in the U.S. in the developed world. This is where the best gun safes come in.
Have you ever thought about what will happen if a child or some other person gets their hands on a gun? It is highly recommended to keep your firearms in a safe place, i.e., a gun safe. If you don't own one yet, now is as good a time as any to buy a gun safe.
Nowadays, you can find many options when it comes to the best gun safes. They come with a variety of features, such as number combination and fingerprint detection.
Simply put, you can now compare a lot of good options before buying a secure gun safe. If you're looking for a good gun safe, we have compiled a list of 9 awesome models below. Keep reading!
Best Gun Safes: Reviews
1. Vaultek Pro VE: Best in Portability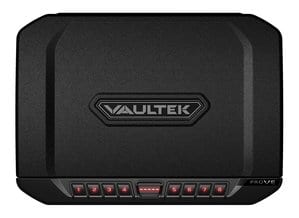 Vaultek Essential Series Quick Access Handgun Safe with Auto Open Lid Pistol Safe Rechargeable Lithium-ion Battery (Not Compatible with Smart Key)
Overview
Vaultek is an American company that is known for manufacturing security technology products. It offers a wide range of advanced smart safes with industry-leading innovation.
The gun safe manufacturer has launched several high-tech Bluetooth-connected safes that protect your valuables against burglary and fire. All the gun safes manufactured by Vaultek are portable and durable.
Fire Protection
The Vaultek Pro VE has a heavy-duty carbon steel construction, which keeps your firearms safe from fire. The 14-Gauge carbon steel body can resist high levels of heat. Hence, it is highly fireproof.
Water Protection
The company claims fire protection, but water protection is not something it focused on. Nevertheless, you can be sure that high-quality carbon steel will not let water inside the gun safe. Hence, it protects your valuables to some extent.
Burglary Protection
The Vaultek Pro VE has a gaming-inspired backlit keypad that allows you to set a unique code. The auto lid will open only when the correct code is entered.
In addition, this gun safe has a security sleep mode, which blocks the lid if the wrong code is entered. The robust steel body uses the anti-pry bars, interior hinges, and interior shielding to keep it secure from break-ins.
Durability
The unibody design of the Vaultek Pro VE ensures strength and durability. It has dual anti-impact latches and bolstered interior hinges. Combined, these offer high levels of protection for extended periods.
Storage
This gun safe can store two full-size pistols and two magazines. You can also include other valuables, such as important documents.
Value
The Vaultek Pro VE has excellent features, but its price is on the higher side. Unlike other gun safes, it is portable, which means that it can keep your belongings safe while you're on the go. Because you can also use it when traveling, the high price is justified.
Final Verdict
This home gun safe is a good option if you are looking for a high-quality gun safe. It lacks some advanced security features, like fingerprint detection, but it has a backlit keypad, which is very useful in low-light environments. The travel mode makes this gun safe, unique, and worth buying.
2. SnapSafe TrekLite Gun Safe: Best for Traveling
SnapSafe Treklite Gun Safe Lock Box with TSA Combination Lock
Overview
SnapSafe has been manufacturing security products since 2009. It produces specially designed safes, which are ideal for every place. The SnapSafe was acquired by Hornady Manufacturing in 2015, which is among the leading companies in the industry in the United States.
Hornady manufacturing not only manufactures security products, but they are known for producing bullets, ammunition, and reloading tools, as well.
Fire Protection
SnapSafe TrekLite is made of impact-resistance polycarbonate, which helps to keep your valuables safe from fires. This is because this material is fireproof and acts as a shield against heat.
Water Protection
As far as we know, neither the company claims to protect your belongings from water, nor the material blocks the water from entering the safe. Thus, this gun safe doesn't provide water protection.
Burglary Protection
The SnapSafe TrekLite has a convenient four-digit TSA lock that offers advanced security. The lock is also hard to break, which means there are low chances of your things getting stolen.
Durability
A non-slip rubber mold is used to make this gun safe, which makes it durable. The polycarbonate ensures exceptional toughness, which further increases its durability.
Storage
The SnapSafe TrekLite is a small lock safe box that is ideal for travelling purposes. You can store one pistol and a mag in it. You can easily fit inside a suitcase or under a car seat.
Value
This is the cheapest yet advanced gun safe you can find in the market. The only major drawback is storage; otherwise, it has every feature that makes this product worthwhile.
Final Verdict
If you are mostly on the go, this compact SnapSafe is all you need. Whether you are travelling by air or car, you can take your firearm with you as it has a TSA combination lock. Also, it is lightweight, so it won't take much space in your suitcase.
3. Billconch Biometric Gun Safe: Best for Burglar Protection
BILLCONCH Biometric Gun Safe, Smart Handgun Safe with APP Two Small Guns Capacity Pistol Safe with Auto-Open Lid,Silent Mode, Rechargeable Battery
Overview
With the increase in the use of technology, brands are now manufacturing every item with advanced features. A China-based company, Billconch is a modern manufacturing company that specializes in artificial intelligence technology.
This safe manufacturer is known for producing gun safes and household accessories with smart technology. The Billconch Biometric Gun Safe is a perfect example of this company's high quality standards.
Fire Protection
This gun safe is made using 16-gauge carbon steel, which can withstand fire for extended periods. It is a heavy-duty gun safe that is sturdy and effectively protects your possessions from the heat.
Water Protection
The Billconch Gun Safe has a secure rubber grip, which makes sure the water doesn't seep inside the safe. However, it doesn't keep firearms safe in water for a long time.
Burglary Protection
The Billconch Biometric Gun Safe is one of the safest options among the listed models here. It uses four different methods of unlocking, which include the Bluetooth app, fingerprint, password, and manual key. With this, there are almost no chances of your valuables getting stolen.
Durability
This safe is an excellent investment as it is sturdy and durable. It will serve the purpose for years because the steel construction has a durable powder-coat finish that prevents corrosion.
Storage
Unlike other models, the Billiconch safe provides ample space to store your firearms. This gun safe can keep two full-sized pistols, bullets, and mags. It is quite heavy, though.
Value
The safe is well-constructed, secure, and durable for the price. It is slightly expensive compared to other models, but the advanced technology justifies the high price.
Final Verdict
The Billconch Biometric Gun Safe is a high-quality safe that is packed with the latest technology. It has excellent security against theft, which is the primary concern of a gun safe. However, it is heavy, which makes it difficult to carry everywhere.
4. Stack-On GCB-1522 Gun Safe: Best in Storage Space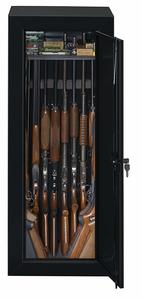 Stack-On GCB-1522 Steel 22-Gun Security Gun Cabinet with Foam Barrel Rests
Overview
Founded in 1972, Stack-On has been known to offer one of the largest selections of gun safes, portable security cases, and personal cases. Its products have a wide range of features, options, and versatility.
Fire Protection
The Stack-On gun safe features an all-steel welded construction, which is highly fire-resistant. The safe will secure your belongings from fire for up to 30 minutes.
Water Protection
The safe is made of steel, but the door doesn't have a firm grip. Unfortunately, this means that it can't stop water from seeping inside the safe. Hence, it provides no water protection.
Burglary Protection
The safe has three lock points that are double-bitted, which ensure high security to your rifles. It has no advanced security feature, though. Only a key-coded lock is there. Simply put, it doesn't provide high security compared to the other gun safes on Home Security Gear Lab.
Durability
The high-gloss powder paint finish on the cylinder makes sure the product remains safe for years. Even the chances of getting scratches are minimum.
Storage
The Stack-On GCB-1522 is cylindrical and can keep up to 22 guns. The safe is quite roomy with a shelf in it where you can keep your bullets and mags. This safe caters every person who is looking for a safe that can secure rifles or long guns.
Value
A large safe comes with a heftier price tag. This sturdy cylinder can store 22 big guns; therefore, paying a higher amount for it is not a big deal.
Final Verdict
A safe that can store rifles can be hard to find. This Stack-On GCB-1522 is spacious, sturdy, durable, and bulky. Sadly, the security is lacking because it only has a key lock. Overall, it is a high-end product, but it is recommended to look into other options before investing.
5. Stealth Handgun Hanger Safe: Best Value for Money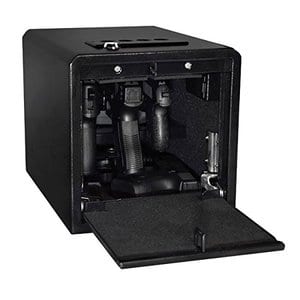 Stealth Handgun Hanger Safe Quick Access Electronic Pistol Security Box
Overview
A U.S.-based brand, Stealth is a startup company that manufactures high-quality security safes. The company was founded in 2004, and since then, it has made its place in the market by producing high-quality gun safes and accessories. The Stealth Handgun Hanger Safe is one of its most popular products.
Fire Protection
The Stealth gun safe can handle fire for more than one hour, as it is made of solid steel. The inside steel rod is coated with heat shrink tubing, so the chances of getting damaged by heat are less. If you are specifically looking for the best fireproof safes, check out one of our previous blog posts here.
Water Protection
This little safe can protect your ammunition from water, as well. The thick steel door will not let the water inside, but it can't last for extended periods.
Burglary Protection
The four-bolt down holes in the bottom of the safe keep your handguns safe. It comes with a security cable, which makes it impossible to pick the safe from its place. Not only that, but it also has a new feature that makes it straw- and picks-proof.
Durability
The solid steel construction keeps the safe durable for a lifetime. Not exaggerating, the safe has a high-density foam inside, which can't be damaged easily and also keeps your handguns secure from scratches.
Storage
This stealth gun safe might look smaller than others, but it has enough space for five handguns and two clips. It has a steel rod inside where you can hang three guns. The other two guns can be kept on the sides or at the bottom.
Value
This gun safe comes at a price that you simply can't resist. Surprisingly, with all the advanced features and storage space it offers, it doesn't cost much. This product is a good value for money.
Final Verdict
This Stealth gun safe fulfills most of the requirements that a good gun safe must possess. It is fire-proof, durable, not too heavy, sturdy, and affordable, as well. The door opens in a discreet manner, which often causes a problem to the owner.
6. Steelwater Standard Duty 16: Best Storage for Rifles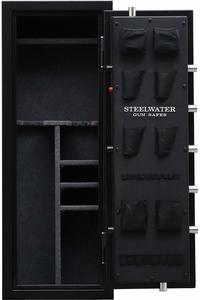 Standard Duty 16 Long Gun Fire Protection for 60 Minutes
Overview
Steelwater is based in South Carolina. It has been operational long enough to be among the household names in the industry. The brand is known for its good quality products at a reasonable price. Furthermore, all gun safes from this company come with a lifetime warranty, showing its trust in its products.
The company, over time, had made changes to the features of its safes and now offers you to buy the updated replacement parts. Steelwater products are not only high-quality but also durable and attractive. You will clearly see this in the Steelwater Standard Duty 16 Gun Safe.
Fire Protection
The new and improved Standard Duty 16 has far better resistance to fire compared to the previous model. The materials used give it protection from fire for 60 whole minutes. Furthermore, the safe can withstand a 1,875-degree Fahrenheit temperature.
Water Protection
This gun safe comes with a three-way direct-drive and longer bolts that cover all four sides against the water. Additionally, the double-layer body makes it resistant to water coercion.
Burglary Protection
Standard Duty has a 12-gauge steel body, which is thick enough to sustain attacks from drilling and prying. It also comes with a three-way direct lock structure and security bypass key that further enhances the security.
Durability
When Steelwater decided to make this safe even safer, it also made it more durable. The robust steel structure and the double laying help it last longer for you to fish benefits from it fully.
Storage
The interior has two section racks that can store up to eight long guns each, allowing you to store a total of 16 guns. Additionally, it comes with four removable shelves to better adjust to your needs.
Value
The new model has managed to outshine the old one, which justifies the higher price point. Many new features were added to make it safer and more durable compared to previous models.
Final Verdict
Steelwater gives you great value for your money, and this safe is the best solution for your long gun storage needs. It offers great security with a certain level of personalization when it comes to how you organize your guns, thanks to its custom door organizer kit.
And in my full, hands-on review of various types of Steelwater gun safe I suggest some great alternatives if it's not quite right for you.
7. Verifi Biometric Smart Safe: Best Value for Money
Verifi Smart.Safe. Biometric Gun Safe with FBI Certified Fingerprint Sensor, Self-Diagnostics, Tamper Alerts and AutoLock
Overview
Verifi Smart Safe has made its name in cardinal security hardware as well as solutions for identity management. The brand offers sophisticated network security tools, which provides the best burglary protection at a great value for money.
Furthermore, Verifi allows you to personalize the parts, OEM devices, and customer service to your needs. This safe comes with a fingerprint sensor for quick access, a self-diagnostic system, and tamper alerts to keep you informed at all times.
Fire Protection
The California DOJ approves of its safety, which assures the protection of your belongings even during unforeseen circumstances, like a fire. However, the company does not guarantee fire protection.
Water Protection
The company does not promise resistance to water, but the diagnostic system regularly checks the electronics and batteries. Hence, the diagnostic test informs and ensures that all systems are ready in case of flooding or any other disaster.
Burglary Protection
The fingerprint scanner is what makes it special. Unlike other scanners, this tech provides quick access, and the auto-lock feature keeps it safe. Also, the company uses an FBI-certified silicon fingerprint sensor for accurate and quick recognition.
Durability
Solid steel is used to make this safe, which gives the body a simple and robust look. The sturdy body makes it hard to access even if someone tries to break it. The concealed hinges and a recessed door that it comes with further increase protection.
Storage
This biometric gun safe comes in three different sizes that you can choose from as per your needs. Hence, it is good enough for the protection of your varying firearms needs.
Value
Unfortunately, this gun safe falls on the expensive side as compared to other devices, but the technology used justified the price. Furthermore, it uses advanced technology to manage and control your security system, which no one else offers.
Final Verdict
This Verifi Biometric Smart safe provides you with the best safety for your home and workplace. Also, the safe even caters to your nighttime needs as it has an LED neon light. With its fingerprint management, Verifi is one of the most secure yet easy-to-use gun safes.
8. Vaultek Slider Series: Best Smart Gun Safe
Vaultek Slider Series Rugged Smart Handgun Safe Quick Auto-Open Sliding Door Pistol Safe with Rechargeable Li-ion Battery
Overview
Vaultek is a U.S.-based company that has a reputation for its security and quality. It also manufactures safes that have Wi-Fi or Bluetooth connection built-in. The company takes security to another level in that you can control the safe from your smartphone using an app; you can even track the whereabouts of the safe.
Even though Vaultek is new in the market, it has made its mark through its innovative and smart products. This particular safe comes with a variety of security features, which include a backlit numeric key, tracking, biometrics, and so on.
Fire Protection
The safe is used to carry limited firearms and is made to be carried around or kept in proximity. This handgun safe was made keeping in mind mobility and accessibility, not protection from house fires.
Water Protection
Vaultek is meant to keep handguns safe, and firearms are usually water-resistant. Hence, the company, keeping in mind this fact, didn't add water protection features.
Burglary Protection
The Vaultek smart app has increased its security a lot, but that's not all the product offers. It also comes with a biometric scanner for quick and accurate access and can store up to 20 fingerprints.
Additionally, it has a keypad that can create up to 40,000 combinations and comes with a proximity sensor that illuminates them.
Durability
Constructed with 16-gauge carbon steel, this gun safe is tough and rugged. Additionally, it has an anti-impact latch to keep it safe and locked even when exposed to shocks. The rechargeable battery it comes with is as durable as the body and can last up to four months.
Storage
This under-the-table gun safe offers limited storage as it's designed only for one firearm. In addition, the length of the gun must not exceed eight inches.
Value
While it is expensive compared to other safes in the market, no other brand offers such sophisticated technology.
Final Verdict
The Slider is great for personal use and offers the best mobile safe. However, it covers your limited needs and is costly in comparison. If it fits your needs and budget, Vaultek offers high security and great access features.
9. Vaultek MX: Best Technology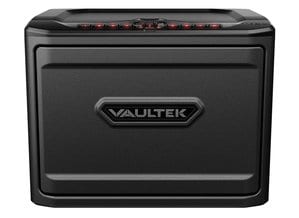 Vaultek MX Wi-Fi Safe High Capacity Smart Handgun Safe Multiple Pistol Storage Smart Safe with Alerts to Smartphone Auto-Open Door and Rechargeable Battery
Overview
Vaultek has been in operation for the last four years and aims to provide the highest quality products with great value. It has been very successful in attracting customers and retaining them with its advanced and innovative safes.
Vaultek MX is a larger smart safe that targets customers with a need to carry more firearms. It is relatively new in the market, but it has managed to catch the eyes of many.
Fire Protection
The sturdy structure and design of the Vaultek MX make it very tough and durable. However, it is still a work in progress and doesn't come with a fire protection guarantee.
Water Protection
The Vaultek MX is a compact safe that prevents anything and anyone from entering, be it water or an intruder. Also, the power-coated exterior further makes it resistant to water coercion and damage.
Burglary Protection
Like all other Vaultek products, this safe comes with a smart app and all its related features. The other features include an impact detector, reinforcement anti-pry bars, and anti-impact latch to provide you with great security.
Durability
The body is rugged and tough, constructed with 14-gauge carbon steel, while the door is made using 12-gauge carbon steel for higher security. Additionally, the powder-coating of the body prevents corrosion and increases its lifetime.
Storage
The safe comes with a large capacity, and it can store firearms, jewelry, cash, and other items with great ease. You can store eight or more handguns and, with additional accessories, even more items. The modular interior with nonabsorbent forms can help you customize and organize your safe.
Value
This safe comes with many great features; hence, the price is high, as well. Unlike other models, it has a higher capacity, which means that it offers great value for money.
Final Verdict
This gun safe fulfills your need to store big and more valuable things without going for a full-scale safe. However, the security, capacity, and technology it offers come with a price.
Final Verdict
After going through 9 reviews of the best gun safes, you are now ready to make an informed decision as to which gun safe is best for you. There are many different kinds of gun safes, as one safe can't fit all needs.
All gun safes come with a baggage of different features; if one is smarter than the other, that doesn't always mean that it is tougher. For instance, The Vaultek Series offers smarter and secure gun safes but does not provide a sturdy body as the Steelwater gun safe does.
You need to prioritize your needs and choose the product that provides the best features you require. Besides, all the products reviewed covers all the areas that make gun safes great.